Oundle Town Cricket Club History
Courtesy of Andrew Radd
1826
(July)
The Huntingdon Journal
: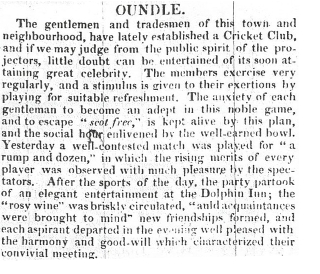 'The gentlemen and tradesmen of this town and neighbourhood have lately established a Cricket Club, and if we may judge from the public spirit of the projectors, little doubt can be entertained of it soon attaining great celebrity. The members exercise regularly, and a stimulus is given to their exertions by playing for suitable refreshment. The anxiety of each gentleman to become an adept in this noble game and to escape "scot free" is kept alive by this plan, and the social hour enlivened by the well-earned bowl. Yesterday a well-contested match was played for "a rump and a dozen" in which the rising merits of every player was observed with much pleasure by the spectators. After the sports of the day, the party partook of an elegant entertainment at the Dolphin Inn; the "rosy wine" was briskly circulated, "auld acquaintances were brought to mind", new friendships formed, and each aspirant departed in the evening well pleased with the harmony and goodwill which characterised their convivial meeting.'
1827
(September) - Report of 'match played at Oundle on Monday last between eleven of Thrapston and eleven of the Peterborough gentlemen, which terminated in favour of the latter. Great interest was excited on the result of the game in consequence of a bystander betting 40-to-1 against the Peterborough.'
1837
(August) - The 'Stamford Mercury' reported: 'A cricket match was played at the Race-course near Stamford on Monday 24th (July) between 11 members of the Oundle club and the same number of the Bourn club. Some good batting was exhibited on the part of Oundle, particularly by Messrs Hunt (who we understand to be a Sussex player) and Newton junior. At the end of the first innings the Oundle gentlemen scored 91 – not a bad innings.'
But Bourn replied with 190 – and for the return it was agreed that Oundle should receive 'two given men as bowlers.'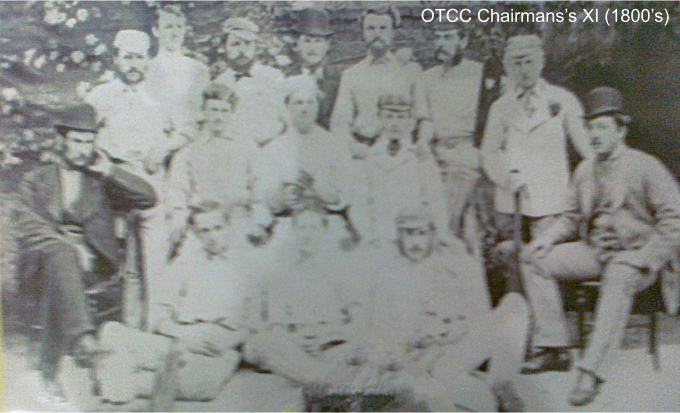 1839 (August) - The 'Northampton Mercury': 'A well-contested match at cricket was played between the Harborough and Oundle clubs in the cricket ground of the former place on Wednesday. The parties repaired to the field early in the forenoon and kept up the game with great spirit throughout the day, excepting only a few intervals for refreshments etc.' Oundle scored 90 and 47, Harborough 83 and 56-3 to win by seven wickets.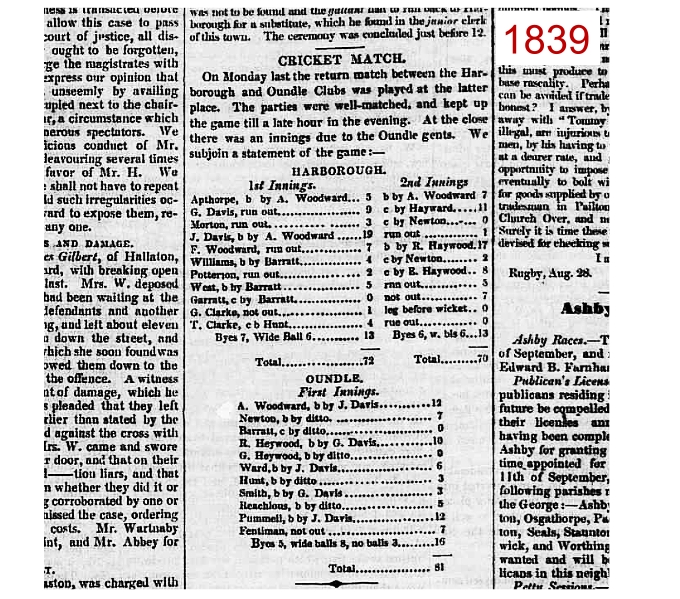 Shortly afterwards the return match was hosted by OTCC – 'through the kindness of Mr Newton of Elmington in a close of his which he had prepared in consequence of the usual place of play being rendered unfit by the late floods.' Oundle won this time by nine runs.
1848 – Oundle and Thrapston joined forces to play a side raised by Courtney Vernon Esq at Lilford Hall. His Lordship's team won. 'Tables were laid in one of the most beautiful aspects in the park, where justice was done to the elegant and profuse fare most liberally provided by his Lordship.'
1849 (June) - 'A well-contested game at cricket between the Oundle and Walcot Park clubs was played at Oundle on Monday last, and was won by the latter with four wickets to go down. The return match is to come off at Walcot Park on Monday next.'
That match was also reported in 'The Era' – 'there was a large company from the neighbouring villages and from Stamford who had come to witness the game, which was carried on with spirit until half-past eight o'clock when the Walcot Park side had to get 31 notches to win with seven wickets to go down. Oundle 79 and 93, total 172, Walcot Park 100 and 42.'
Later that season OTCC entertained the might of the Northampton Cricket Club.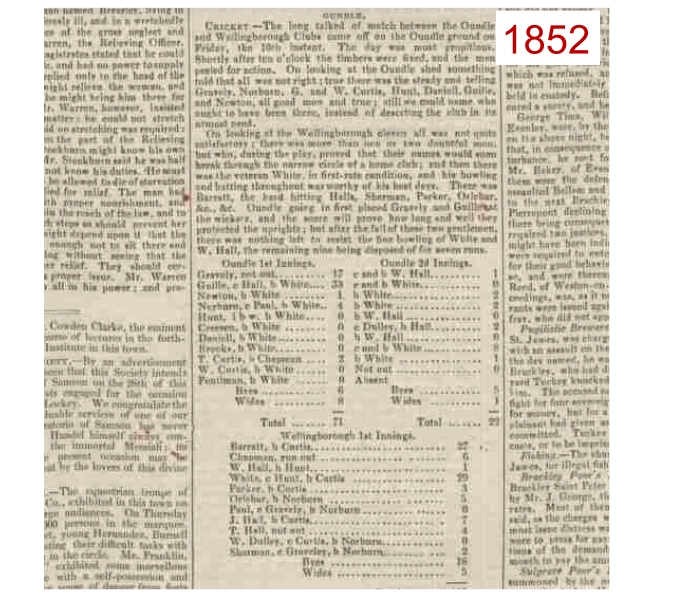 1853 – WG Walker's 'A History of the Oundle Schools' records: 'The question of a cricket ground was raised. The Town Cricket Club rented a ground from Mrs Curtis for £5 a year, but she had given notice that, if the schoolboys made use of it, the rent would be raised to £9; the cost of the upkeep would be similarly raised by £3 to £4 a year. As recommended by the visitors, the Court agreed to pay £10 a year towards the rent and maintenance, provided that the cricket ground should be available for all the boys, Laxton Scholars as well as boarders.'
1858 (May) – The Peterborough Advertiser reported: 'We have much pleasure in stating that there is every prospect of the original Oundle Cricket Club being re-formed. At a meeting held at the Cross Keys inn it was resolved to canvass the cricketers of the neighbourhood, which has been attended with every success, 40 names having been enrolled.
1861 (April) – Meeting at the Ship Inn 'for the formation of a club. At the conclusion of last season a subscription was raised for the purpose of levelling the ground which, although well responded to, was barely sufficient to meet the outlay. The ensuing season will commence on the prepared ground around the middle of June – the status of the ground not permitting earlier use.'
1875 (August) – Oundle Town Cricket and Athletic Club played away at Norman Cross on August 2 with the return fixture at Oundle a week later. Oundle won both matches. In September of that year Oundle played a match at home to Lord Burghersh's XI – later the 13th Earl of Westmorland (succeeded 1891) whose family seat was Apethorpe Hall until he was forced to sell it in 1904. He played occasionally for Northamptonshire as Lord Burghersh.
1884 – Reported that the club had 60 members, paying a subscription of five shillings each. John Hume Smith was still captain – and was still playing in 1890 when he appeared in the averages published in the one-and-only edition of the Northamptonshire Cricket Annual, edited by AE Daniell. WT King of New Street was secretary.
1901 (July 13) – Oundle played Lilford at home. Northants Evening Telegraph reported: 'One of the best matches of the season was that of Saturday last. This is always a popular fixture and both sides put an excellent team into the field. Three weeks since, when the match was played at Lilford Park, the home side made 201 against Oundle's 164, thus winning by 37 runs. GK Papillon played for Lilford and WG Grace junior gave a splendid exhibition of cricket with a brilliant innings of 141 – exactly the same number as his father (Dr WG Grace) made in Oundle (against the school) the week previously. Mr H Richards scored 25 (for Oundle) – exactly the same number of years he has played for the club.'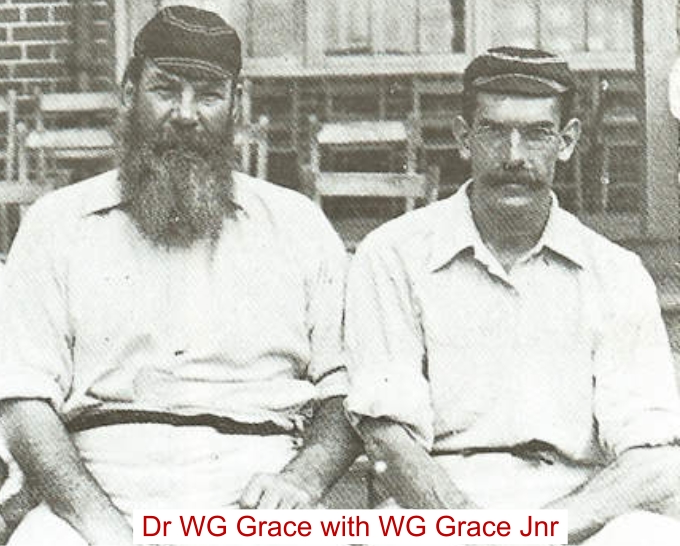 WG Grace junior was run out for 141 and also bowled Lord Lilford for 2. The Oundle team was given as: WG Grace junior, WB Stansbury, H Richards, C Thorpe (possibly the future Northamptonshire player, born at Fotheringhay?), TH Rose, CF McKee, Mr Macnaughton (who made 70), JH Smith, T Wright, A Gann, H Wright.
1926 (May) – Wilfrid Timms, who scored an unbeaten 154 for Northamptonshire against Essex as an 18-year-old schoolboy in 1921, went to teach at Oundle School and was master-in-charge of cricket there between 1926 and 1929. At the end of May 1926 – the month of the General Strike – he opened the batting for OTCC away to Lord Lilford's XI and made 27 out of 104 all out as Oundle lost by 92 runs.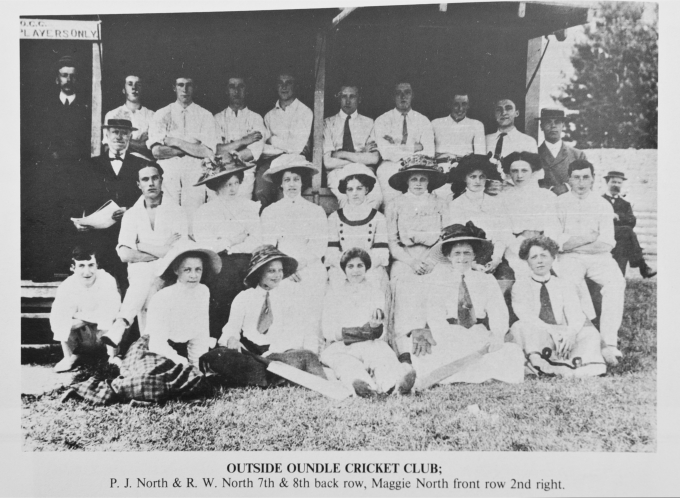 1936 – John Edgar 'Jack' Buswell made the first of his 61 first-class appearances as a fast bowler for Northamptonshire. Born in Barnwell in 1909 he played for Oundle Town and also became the club's Hon. Secretary and Treasurer before beginning his County career. His father Percy, Oundle's postmaster, was also an OTCC stalwart and captained the side. Jack claimed 7-43 for Oundle against Burghley Park in May 1934 - statistically slightly better than his best County Championship figures of 7-61 against Lancashire in 1938.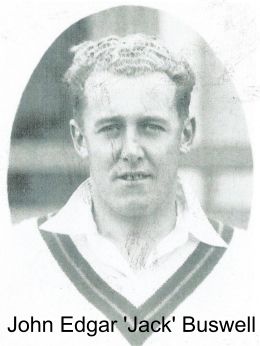 1937 – It appears the Club has passed through a low period and needed to reconstitute itself and pay off its debts. Funds were raised through a Jumble Sale, a Dance in the Victoria Hall (admission two shillings) and a draw for a bottle of port and a box of chocolates. Mr North gave a sightscreen and new bats and gloves were procured. By the summer of 1939 the club had decided to enter the Jaidka Cup competition, and had made arrangements for a bus with Mr Howard.'
1946 – Oundle Town's AGM 'thanked Mr Collard for watching over the interests of the cricket club during the war period.' It was reported around that time that 'if a club member played in fewer than ten matches he was entitled to a rebate on his subscription.'
1947 – A stock of caps was ordered in traditional colours of red and black. Those remaining in 1950 were sold at five shillings a time!
1948 – The Oundle v Thrapston 'derby' match produced a gripping finish. Jimmy Lowe top-scored with 28 in Oundle's 89 all out – Thrapston then 47-8, 88-9, and eventually squeaked home by one wicket despite the best efforts of Norwood (6-24) and Lowe (3-13).
1950 – A busy season for OTCC with two teams being put out on many weekends. Fixtures (played on Saturdays and Sundays) included Wellingborough Town (the opening fixture in May), Ramsey, St Neots, Quorn, Uppingham, Rushden Town 'A', Huntingdon, Barnwell, Brotherhoods (from Peterborough), Burghley Park, Higham Ferrers, Kimbolton and Bourne, plus Oundle Rovers.
There were also fixtures against Oundle School 2nd XI (in July), OTCC 2nd XI against GR Kay's XI and OTCC against Brush Sports from Loughborough. That match saw Jimmy Lowe hit 107 not out and R Barton 52 – Barton having scored (according to the local newspaper) the previous century for Oundle in 1948.
Lowe, Barton, G Timson, A Perring, J Coulson, R Chignell, Dr Tagg (who claimed 6-29 against the School's second team and 7-46 against Kimbolton), J Maddocks, Mike Amps and Mike Mills all figured prominently in the match reports.
Oundle Town was mentioned in the minutes of the first meeting to consider setting up the Northamptonshire County League (meeting in 1950, league started in 1951) in the canteen at British Timken as a potential member club. But it was not pursued (on either side?)
1952 – 'As the club expanded the number (of fixture lists) printed rose from 100 in 1938 to 250 in 1952.' Annual subscription was a guinea and players charged a match fee of 1/6. 'Mr and Mrs Kisbee and other members of the Entertainment Committee arranged fortnightly whist drives and draws throughout the winter.'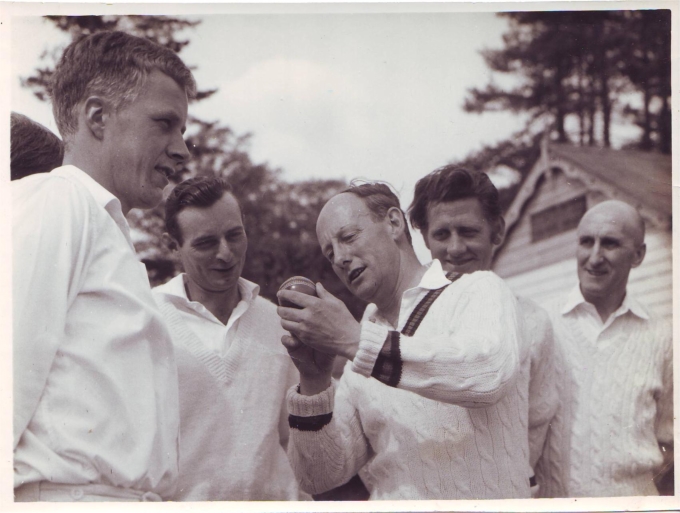 1962 (June) – Oundle lost to Stewarts and Lloyds by 6 wickets. Oundle team given as: CG Johnson, KR McLean, RL Barton, CW Furniss, BM Dew, AJ Taylor, AT Rowell, BD Tagg, JS Lowe and two others unnamed.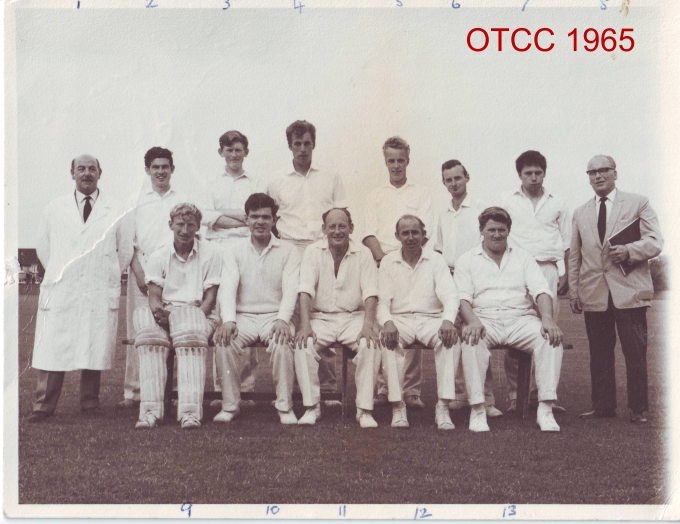 1973 - Regular Oundle player Gordon Edwards went on to play for Notts under Gary Sobers' captaincy – a good enough bowler to prevent Barry Richards scoring the fastest televised 50 in the John Player Sunday League, at Southampton! Edwards trapped Richards lbw for 48.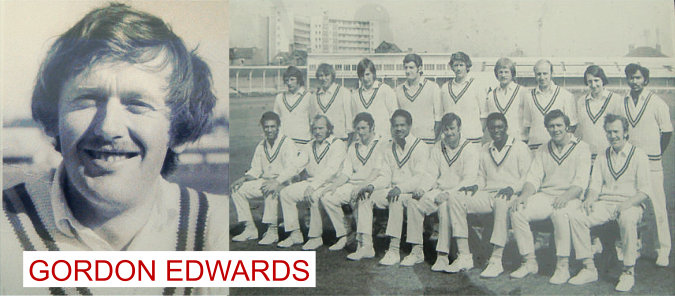 But he proved less successful at Fenner's when the club played Cambridge YMCA – Edwards out for a duck while Peter Burnham scored a century.
It is highly recommended that you take a moment to download Gordon's story 'A Cricketer's Journey' which he kindly made available in a PDF document. >>> DOWNLOAD <<<
1982 – Rutland League founded with Oundle Town as one of the founder-members – along with Barnack, Brotherhoods, Ketton, Market Deeping, Market Overton, Stamford Town (then known as Priory Sports), Ufford Park and Uppingham.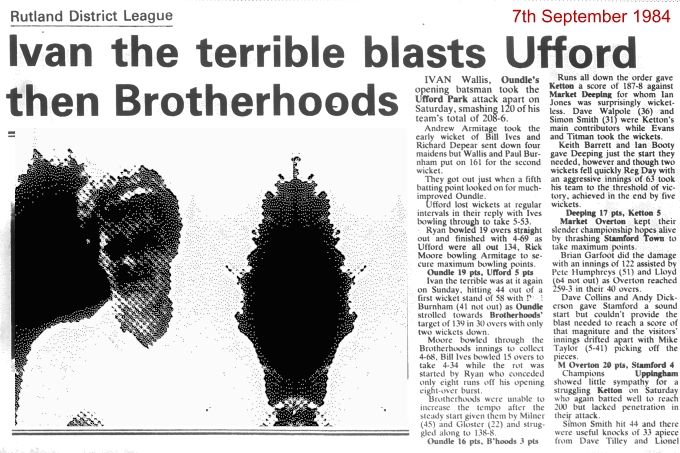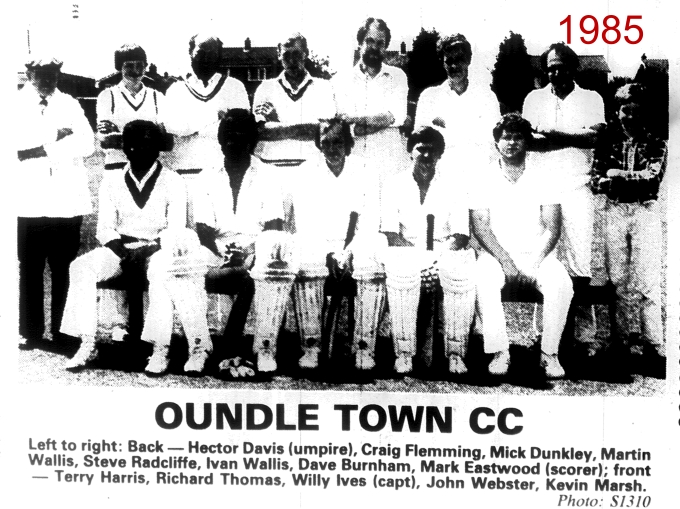 1988 – The old pavilion at Milton Road was replaced by a Portakabin, which was lifted into position over the wall by a crane. 'A new scoring shed, a new garden seat and a new shed for the toilets were made possible by a legacy from the late Mr JS Lowe, who was Secretary for 38 years. Another member who gave long service was the late Mr DH Clark (who) became a member in about 1925 when he used to play in the Wednesday XI. In 1949 he was elected Scorer and regularly undertook that task until his death in 1991.'
1990's – The secondhand portakabin started to leak and the lack of basic facilities (including hot water) became more of an issue which led to thoughts turning to a project to build a proper facility. The committee started planning and the club started fund-raising.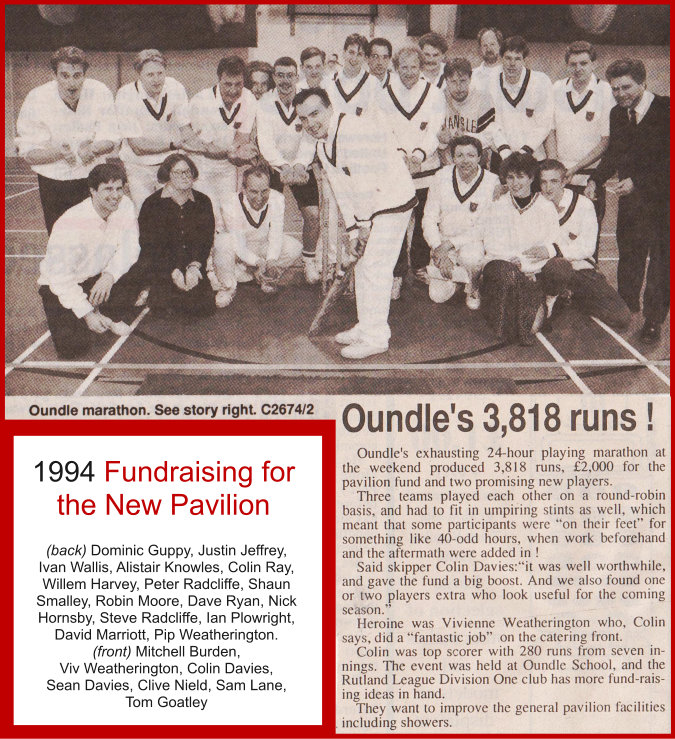 1997 – The Portakabins having been destroyed in a fire, the committee decided to urgently bring forward plans for a building and commit to a development plan and build a new pavilion – achieved with the help of lottery funding and club members, notably Peter 'Whippet' Burnham who undertook most of the building work.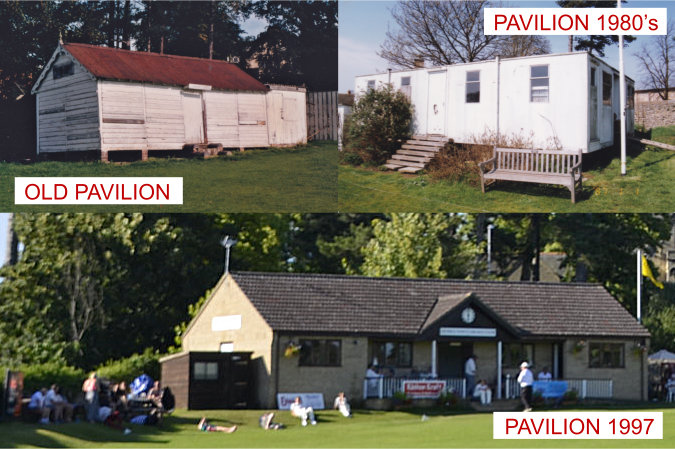 2006 – OTCC departed from tradition and committed to league cricket on Saturdays, joining the Northamptonshire Cricket League (NCL).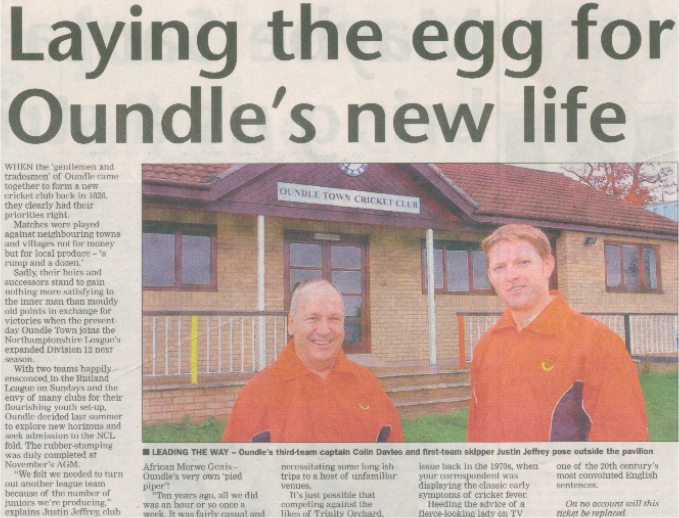 2010 - Oundle starts a Ladies & Girls Section and collect their first Northants silverware at the highest level with the 1st XI winning the Northants Hevey Twenty20 Cup in a finals day played at The County Ground.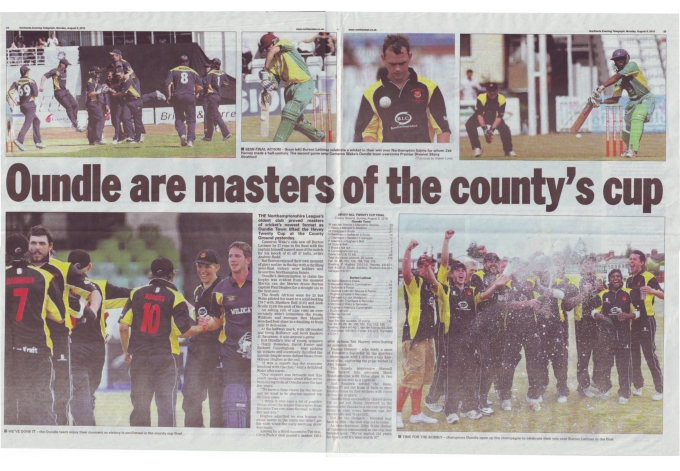 2011 (July) from the Northants Evening Telegraph, by Andrew Radd

AROUND THE CLUBS – OUNDLE TOWN
Our local cricketing annals are full of fascinating 'what-ifs.' Most notably, I suppose, the likely ramifications of Andy Roberts NOT turning out for Finedon in their crucial match against Wollaston at the end of 1996.
The Dolben relegated from the old County League's top division and obliged to scrap it out with Wellingborough Priory, Cutler Hammer and British Timken the following season. Their long-term domination of the Saturday scene in Northamptonshire put on hold for a while, at the very least. Similarly – if a group of die-hards hadn't coughed up a few quid in the back room of a pub 20-odd years ago it's highly improbable that Cameron Wake's Oundle Town team would have been spraying the champers as Twenty20 champions at the County Ground last August.
As diligent readers of the NCL handbook will know, the Badgers are the oldest club in the current league, able to trace their origins back to 1826. But not so long ago OTCC came dangerously close to disappearing down the plughole. "The 1980s were a period of decline," explains Oundle stalwart David Marriott, known to the cricketing world as 'Fred' and a former chairman of the club. "Our old but not unattractive timber pavilion gave up the ghost and was replaced by a couple of second-hand portakabins with no running water or WC! "Things went downhill on the field too, despite Oundle being one of the eight founder-members of the Rutland and District League. "I vividly remember us being set 395 to win against Nassington and being 0-2 in reply. A challenge with a full team of eleven players – but we only had nine!" "Eventually the portakabins were becoming semi-unusable and although we played our games at Milton Road there was no formal agreement with the (public) school for us to do so."
He continues: "The lowest point I can remember was a meeting held in the back bar of The Ship. The club's treasurer sent a letter of resignation advising that we had insufficient funds to pay the following season's Rutland League fees – or indeed buy any balls. "So we had no real pavilion, just one team that was usually supplemented by Joe Soap from the bar at 12 o'clock, and no money! "It was a simple decision – either fold or get some funds together to continue. "So at this meeting eight individuals each donated £25 to cover the shortfall and keep the club running. "If you'd described our current set-up to the assembled few there that night they would have sent you to a psychiatrist!"
That skin-of-the-teeth survival act wasn't Oundle's first brush with cricketing oblivion. You can sniff the optimism of 1826 in newspapers of the time – an 'elegant entertainment' for the club's players at the Dolphin Inn (now the school's Old Dryden building on North Street) when the 'rosy wine was briskly circulated' and 'each aspirant departed in the evening well pleased with the harmony and goodwill which characterised their convivial meeting.' But said harmony and goodwill looks to have drained away almost as rapidly as the rosy wine. In 1853 the Town club's then-landlady, a certain Mrs Curtis, decided to nearly double the rent for the ground 'if the schoolboys made use of it' and also hiked the maintenance costs. It would seem Oundle School effectively took it over and the Badgers found themselves on the outside looking in. So much so that by 1858 the club was attempting to re-launch and re-locate. 'There is every prospect of the original Oundle CC being re-formed,' reported the Peterborough Advertiser in May. 'At a meeting…it was resolved to canvass the cricketers of the neighbourhood, which has been attended with every success, nearly 40 names having been enrolled. 'A piece of ground close to Ellington-gate has kindly been offered by Mr C Swann until such time as a ground can be found nearer the town.'
A couple of years later they met – and lost to – a team raised by Lord Lilford's brother-in-law and in 1875 were hobnobbing with the aristocracy again, taking on (occasional Northamptonshire player) Lord Burghersh's XI. Wind on a century or so and find some outstanding cricketers wearing the OTCC colours. Not least Glapthorn-born Gordon Edwards, a good enough off-spinner to play for Nottinghamshire under Gary Sobers' captaincy in 1973. Ivan Wallis – complete with three-pound bat in the days before tree trunks became fashionable – hit plenty of mighty sixes, and Peter 'Whippet' Burnham was another to shine in their programme of fixtures against local sides, touring teams and even Cambridge colleges ("something that should be re-introduced in my opinion" according to 'Fred' Marriott).
Eventually those tatty portakabins were destroyed in a fire and the doughty souls who'd given the club a future reckoned it was time to think big – or, at any rate, bigger. "A decision was taken by the new committee to commit to a development plan and build a new pavilion," Marriott recalls. "An agreement was negotiated with the school to give us some security and lottery funding was secured. Around this time I took a phone call from Peter Burnham who was a self-employed builder. "He asked me if we had anyone to build the pavilion yet. I told him we hadn't. "So he said if we could get the money he would build it for us. I just had to ring him when we were ready." The current pavilion duly went up in the winter of 1996-97 – but even with 'Whippet' using his expertise on the club's behalf it wasn't entirely plain sailing. "We had a few heated meetings over such complex matters as urinals and removable partitions. "The voting process made FIFA delegates look like novices!"
Lucky for them the amusing but occasionally scurrilous 'Badger Bulletin' – the club's very own blog-cum-gossip column – wasn't around then. The construction job was done, however, and although Peter sadly passed away not long afterwards his brother David keeps up the family tradition as the dedicated groundsman at Milton Road. The Peter Burnham Memorial Match – between the club and a Chairman's XI – is contested each year.
The 'reigns' of Marriott, Steve Radcliffe and – currently – Justin Jeffrey in the chair have seen Oundle make notable strides on and off the field, joining the NCL in 2006 and now targeting Premier Division status following last year's run to the national T20 quarter-finals. As the sage once remarked – it's impossible to know where you're going unless you know where you've been. With 185 years of history behind it this particular cricket club has at least had plenty of time to work that out.
2012 - Following a series of seasons of winning promotion, OTCC's 1st Team gain promotion to the NCL Premier Division having added a Second and Third XI to the Northants Cricket League. The 1st XI also win the county Northants Hevey Twenty20 Cup competition again.